Aum Sacred Art - Vedic Jewelry
Aum Sacred Art, LLC, is dedicated to finding and connecting artists from the United States and around the world with people who desire to elevate their experience of the sacred. We do this through working with businesses (spas, yoga studios, decorators, curators, hotels, furniture stores, gift shops) whose clients appreciate art, home décor, vedic jewelry and clothing which feeds their souls, is uplifting and thought provoking.
The artisans' works evoke beauty, harmony and spiritual development in both the individual and their environment.
We provide art, jewelry and clothing that is curated, creative, and unique, for personal use, home altars, and for larger projects for home and workplace decoration and alignment. Our products are made without chemicals by artisans who are paid fair wages in healthy working conditions.
A portion of the proceeds from your Aum Sacred Art purchase is donated to organizations that enhance and support the health and education of women and children.
We proudly support Brighter Beginnings, providing social and medical services to low income families in the San Francisco East Bay; Embracing the World, empowering women in India; and the What If? Foundation, feeding and educating children in Haiti.
OUR PRODUCTS
All of our products are carefully curated to resonate with the principles of beauty, harmony and healing, as embodied in the Vedic knowledge of Kaya Kalpa and Eastern spiritual traditions. Our initial offerings are mostly one of a kind, handcrafted, blessed jewelry. Each piece speaks to the heart, of an aesthetic beauty graced with sacred healing energies.
We also offer handmade pashmina and silk shawls from trusted sources in India, and in the future, statues commissioned from longtime expert artisans from around the world.
ABOUT US
Jody E. Parsons, Director, is a retired non-profit and local government administrator.
Richard G. Wong, Director, is a retired physical therapist and college biology professor.
We are lifelong seekers whose spiritual journey has led us to explore various aspects of the ancient Vedic tradition. As people of faith, we believe in healing and transformation of the human body and spirit. Inspired by classical Vedic knowledge and its wisdom and relevance to our everyday lives, pilgrimages to sacred sites around the world, a desire to live a meaningful retirement, and a passion to help improve the health and education of women and children around the world, we launched Aum Sacred Art, LLC in late 2015. Practicing an Ayurvedic lifestyle, we are committed to our health and helping others to enhance theirs through healthy eating, meditation and learning how to harness the power of gemstones.
Our initial offerings include beautiful, unique and healing jewelry designed by Vaidyaji Priyanka. Vaidyaji has been designing jewelry for over 25 years. She has worked with master craftsmen, jewelers and shamans to help heal people with crystals and gemstones with the most authentic Vedic modality. She comes from a lineage of over 725 years of women Ayurvedic healers from Kerala, India. She teaches the principles of Ayurveda worldwide and is in an expert in aromatherapy, color therapy, yoga, nutrition, music, cooking, exercise, meditation and Kaya Kalpa. She teaches cooking online on her You Tube channel, AUMcuisine.
Save 10% on your first order when you follow us on Instagram.
DM for coupon code.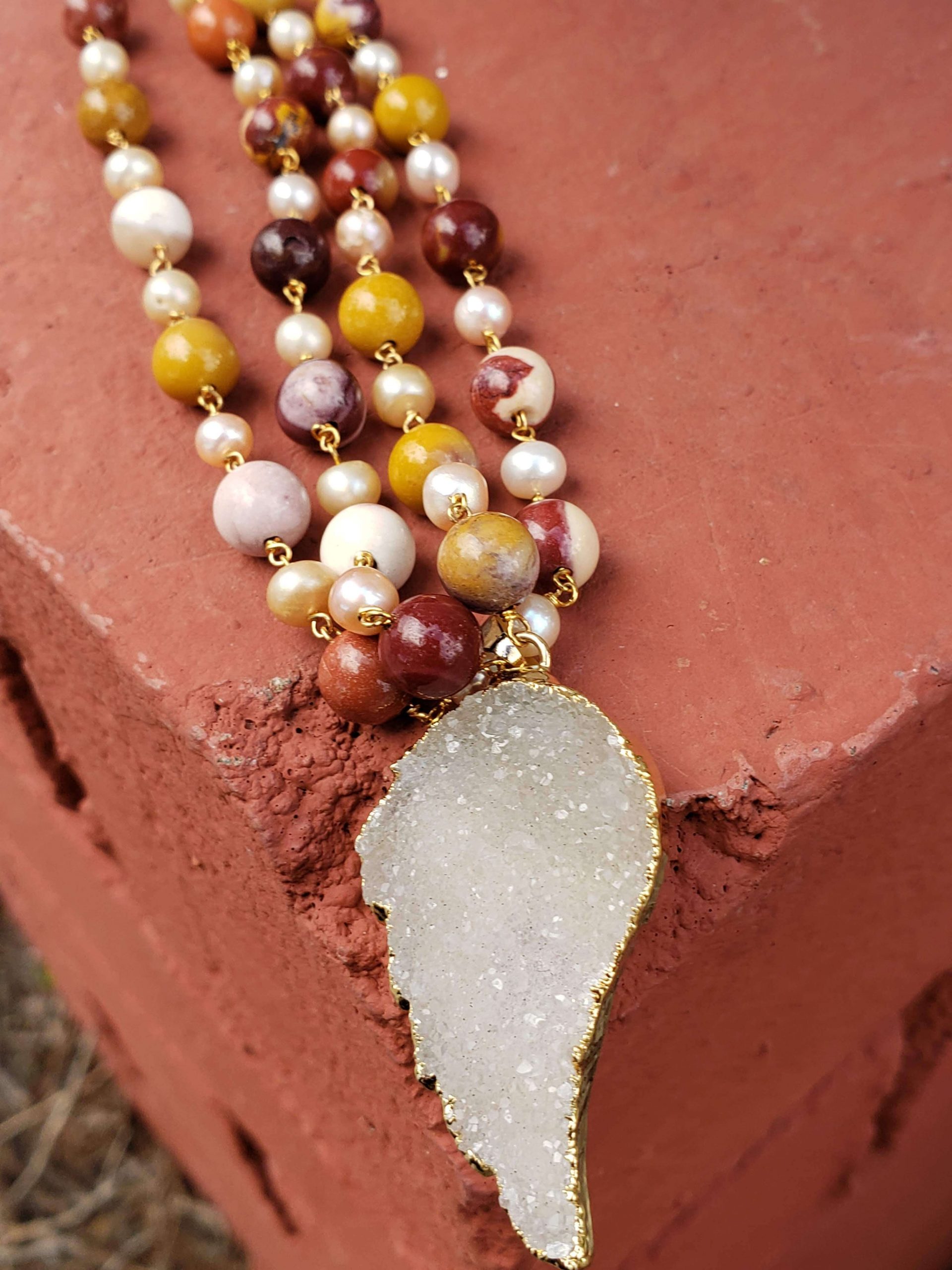 Each piece is authentically designed in accordance with the classical knowledge and science of gemstones from the Vedic lineage Kaya Kalpa tradition. Kaya Kalpa is known as the ideal treatment for health, vitality, longevity and higher consciousness. It literally means "body rejuvenation."
Our Palindrome collection of healing gemstone necklaces has been designed with the expert guidance of Vaidyaji Priyanka. Timing amplifies power, and Vaidyaji chose the palindrome days of December 2021 to design this signature collection of necklaces using the most auspicious gemstone combinations for 2022 and beyond.